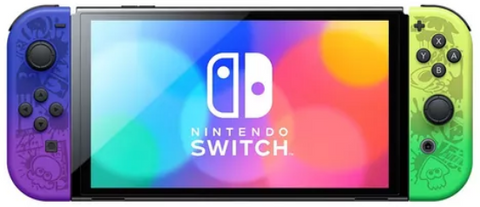 Nintendo Switch OLED Broken Joystick Repair Service
Description
This service is to repair/replace your broken Nintendo Switch OLED joystick. You will need to mail the Nintendo Switch OLED in for this repair service. The processing and repair time frame for your Nintendo Switch OLED once received is typically 72 hours. You'll be notified within 24 hours of me receiving your Nintendo Switch OLED Monday - Friday during business hours. Devices received after business hours or on holidays will be processed the following business day. All replacement joysticks are high quality OEM joysticks. This repair service is only for the repair listed "Nintendo Switch OLED joystick", no other service will be rendered unless discussed. If your Nintendo Switch OLED has other issues please let me know before you mail the Nintendo Switch OLED in for repair. Business operating hours are Monday - Friday 10AM - 6PM PST (All national holidays observed). If you have any questions please contact me. 
How this service works
Select the service you need. If you do not know what your issue is please contact me or mail your Nintendo Switch OLED in for diagnostics. 

Upon checkout provide your personal information such as name, email address and address you'd like the Nintendo Switch OLED shipped back to.

Securely package your Nintendo Switch OLED and then mail it to the address provided. Mail in address and instructions can be found here.

After I receive your Nintendo Switch OLED I'll contact you via email confirming I have received your Nintendo Switch OLED. Your estimated repair date will be provided as well.

Nintendo Switch OLED is repaired on the estimated repair date and mailed back within 24 hours of the repair being completed Monday - Friday.
Repair Warranty
Along with the repair service you receive a 12 month component failure warranty. The 12 month component failure warranty covers the joystick from failing within the warranty time period provided to you and is limited to component failure only. I do not warranty misuse or accidental damage of the replacement joystick. When sending your Nintendo Switch OLED in for warranty you are responsible for shipping costs both ways.

Mail In Instructions
Click

here

to view mail in instructions.